Have you heard about
FaveQuilts
? What a great site! They bring together tons of the free patterns on the web and organize them for you.
Sign up for their emails
and you'll get links to a group of free patterns every day. They've linked to my free patterns too.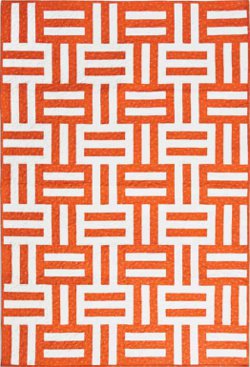 Monday's email featured rail fence quilt patterns. This one,
Rail Fence Pizzazz
, really caught my eye! It is a free pattern from
Accuquilt
. You know how I love a two color quilt! And, I'm always looking for fast and fun patterns to make charity quilts and use up my stash. I might have to try this one using a variety of darks and maybe one light. It isn't as big as my charity quilts need to be, but it shouldn't be too hard to make some extra blocks to get to the right size.
I get so excited when something so simple has such, well, pizzazz! I'm itching to start right away, but it will have to wait as I already have
two charity quilts
in progress along with several, ahem, other projects.
On the list it goes...
(PS I've added a few of my older posts to my "Free Projects" tab)